Many website owners use Google Analytics to track and record important information about visitors to their website. Sometimes you will need to provide access to your Google Analytics account to a third party so they can analyze your website visitor data.
If you need to share your Google Analytics account this is how you do it.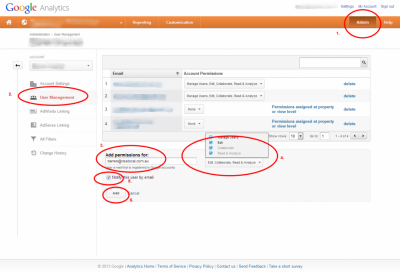 Log in to Google Analytics.
Then:
1. Select "Admin" top right of page
2. Under column labelled Account, select "User Management"
3. Under "Add Permission For" add the email address of the new user.
4. Tick the box "Notify this user by email"
5. Click Add
The new user will receive an email informing them of access to your Google Analytics reports.