Is it possible for small businesses to dominate Google results for relevant search terms?  You bet.
Here is an example of Google domination by a tyre retailer in Sydney's south.  A search for "tyres kirrawee" on Google produces 6 direct results and 3 indirect results for Tubby's Tyrepower. Tubbys are one of three tyre retailers in the suburb of Kirrawee and one of ten in the immediate vicinity.  But Tubbys dominate the search results.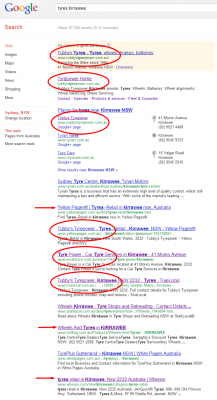 In this screenshot we can see the direct results for Tubbys are circled in red. At the top of the page is Tubbys Google Adwords spot. The top organic listing is the Tubbys website. Then the first of the local listings is the Tubbys Google+ page.  That gives Tubbys the top three listings on the page.
Further down the page are Tubbys listings in the Yellow Pages, True Local and Local Store business directories. By clicking on these results visitors will land on Tubbys optimized listings in each of these directories.
Tubbys also has 3 indirect results on Google , that is pages where the user will find a link to Tubbys from a directory category page (indicated by red arrows in the screenshot).  These include Yellow Pages (again), Hot Frog and Whereis.
The example of Tubby's domination of Google search results emphasizes the need for local businesses to:
Maintain an ongoing Google Adwords campaign
Optimize your website for high organic results in Google
Claim, optimize and continually update your Google+ page
Claim, optimize and update all your directory listings
Get it right and Google domination is possible for any business.
RiseLocal works with local business to connect with their leads and customers.
For a free audit of your online presence complete the form below.