To grow your practice you need more clients. To connect with more clients you need to be found online. 
People search for psychologists and counsellors online. Google reports strong growth in recent years from Australians searching for "psychologists".
When someone is searching for your services, in your target geographic area, you want them to find you. To be found you need two things:
Digital assets

Visibility on Google (and other search engines)
Digital Assets
So what are "digital assets"? A digital asset is any online property you can use to connect with potential clients. Your website is an obvious example.
Other digital assets include:
Facebook page

Twitter account

LinkedIn profile

Google+ business listing

Google advertising
Listings on any of dozens of directories such as Yellow Pages and True Local.
All of these assets can help you connect with more potential clients and grow your practice. And the good news is that many of them are free.
Visibility
Here we refer to your visibility on Google and other search engines such as Bing. Since Google has a market share of over 80% in Australia, we tend to focus on them.
When people search on Google the great majority do not read past the first page of search results. So if you are not on page one, chances are you won't be found.
To grow your practice you need visible digital assets.
There are three parts to a Google search results page. It is possible to gain visibility in each of these.
Paid Search

Local Search

Organic Search
Case Study
In the example below you will see Google's search results for "psychology Miranda" (click on the image for a larger version). 
We work with Life & Mind Psychology and have secured 4 listings on page one of Google. People are far more likely to click through to Life & Mind's website than a competing site. This is a good example of highly visible digital assets. (Article continues below).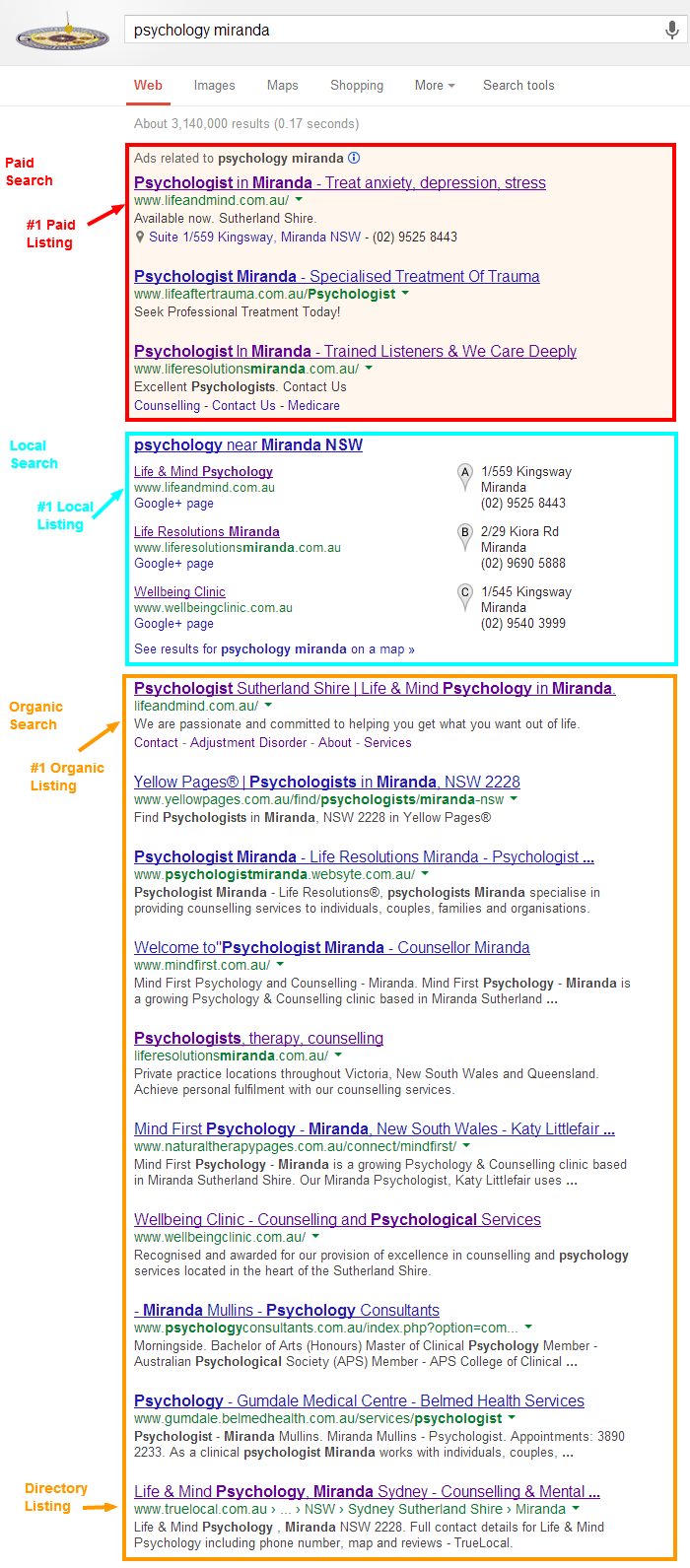 At the top of the page you will see Life & Mind's Google ad. We ensure high visibility for Life & Mind whenever someone searches for psychology services in the suburbs of southern Sydney. We have included Life & Mind's address and phone number in the ad to make it easy for clients and potential clients to connect.
Next you will see Google's Local Search results. Google recognises that people often look for services in their local area and promote Local Search results higher on the page (under their paid ads of course). Again, Life & Mind is the first listing. We achieve this by ensuring we have a claimed, verified and optimized Google+ Business Page. I will write more on Google+ in a later article.
Further down you will see Google's organic results. Here again, Life & Mind ranks number one, thanks to a carefully optimized website. Search Engine Optimisation (SEO) is a group of techniques that we use to ensure our clients' websites rank well on Google for the correct keywords.
At the bottom of the Google page you will see a link to Life & Mind's listing on True Local. We have claimed free listings on 10 major business directories, all of which are useful digital assets for Life & Mind Psychology.
With four listings on page one of Google, Life & Mind can connect with many new clients.
Interested in growing your practice?
 Request a FREE Digital Marketing Report for your business. We will analyze your online presence and make specific recommendations for how you can connect with more potential clients.
Simply enter your email and website address below.