UPDATE: 25 June 2013
Now ranking #1 for target search term. One good backlink and some social love (Facebook likes and Twitter retweets) go a long way.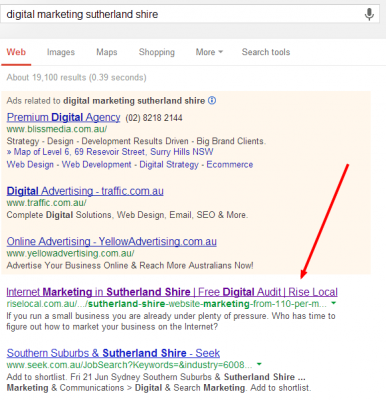 (Click image to enlarge)
The practice of Search Engine Optimisation (SEO) has gone through some big changes in recent years. The old techniques of gaming the search engines are all but dead. Today, quality unique content and a few high authority backlinks are the name of the game.
This website just picked up a good quality backlink from BEC Southern Sydney.  As a member of the Business Enterprise Centre we get a listing in their business directory. Included in the listing is a link to this website.
Google places some level of authority on the BEC website – they see it as a reliable publisher of business related information. When the BEC links to another website the link is seen by Google as an endorsement of that website. So a link from the BEC to Rise Local is a vote of confidence in Google's eyes.
Within a couple of days of the link going live our ranking on Google for an important search query shot up from #9 to #4. Now, we don't have sufficient evidence to claim causation but we will be tracking rankings closely to see if we get a result across more search queries.
A client of ours recently secured a backlink from an organisation where they do volunteer work. The result was an almost immediate increase in Google rankings for a number of important search queries.
Today SEO is about the quality of backlinks you can secure. Not the sheer volume of backlinks.
Almost every business has opportunities to find and secure quality backlinks. Rise Local offers a Link Discovery service to unearth these opportunities. Contact us to learn more.