Want to see free marketing tips from Rise Local? Just enter your email address below

A Proven Method
The "Precision Marketing Method" is how we help to double your business. We have developed, tested and proven this method with dozens of clients.
The Precision Marketing Method is about putting the right message, in front of the right person, at the right time. By doing this well we get the maximum leads from your marketing budget.
We follow a 3 step process:
Segment your market
Apply the right marketing strategy to the right segment
Put the right message in front of the right people at the right time
Segment Your Market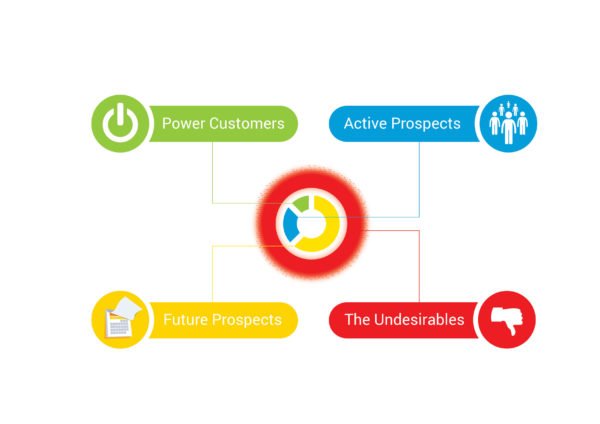 We segment your entire market into 4 groups:
Power Customers – People looking for you, by name, right now
Active Prospects – People looking for your service, in your area, right now
Future Prospects – People who will one day need your service, but not today
Undesirables – People who will never need your services
Each of these groups is then treated differently through your marketing.
Marketing Strategy

Power Customers are your most profitable group. These people have searched for your business by name. They are already 90% of the way to using your services. Power Customers will produce higher paying jobs, higher margins and lower costs than any other group. The larger this group is, the more profitable your business will be.
We use Search Marketing to make sure your Power Customers can easily find your phone number and website when they need it.
We use Brand Marketing to make the Power Customers group as large as possible. We repeat your brand message to them over time, and we promote your good business reputation.

The Active Prospects group is much larger than Power Customers. This group is made up of all the people who need your services today but are not searching for your business by name. You must compete for their business. But once you win them, you have the opportunity to convert them into Power Customers for the next time they need your services.
We use Search Marketing to connect with Active Prospects and drive them to your website.
We use Content Marketing to convert Active Prospects into leads for your business.

Future Prospects are all the people in your market who may one day need your services, but not today. This group is much larger than Active Prospects.
Future Prospects probably don't spend any time thinking about your business during the time they don't need you. But it is important to build your brand awareness with this group for the day when they do need you.
We use Brand Marketing to connect with Future Prospects and explain the benefits of your business. We create and build brand awareness with the goal of turning Future Prospects into Power Customers.

The Undesirables are simply people who are not your potential customers. It could be they are renters, are too young, live too far away or some other reason. We actively avoid marketing to this group to better utilise your marketing budget.