1 in 3 mobile users in Australia go online via their handset and this trend is increasing (ACMA, December 2012). Does your website scale to display well on the very small screen of a smartphone? Does it display well on a tablet (like an iPad)?
As people increasingly access the internet via hand-held devices, local businesses need to connect with them through websites that are flexible and smart. These websites respond to the users device and present your content in a format that fits the users screen.
A "responsive" website is one that automatically adjusts to the users device. A responsive website identifies the users device and presents itself accordingly.
The Rise Local website is responsive. Use the maximise button in your browser to change the size of this window. Play around with scaling this window to different sizes. See how the layout of the web page changes automatically?
As you resize this window to emulate a phone or tablet you will see the top navigation bar convert to a drop down menu. The sidebar will move to the bottom of the page. Images will automatically re-scale.
The great benefit is that the Rise Local website is friendly to users no matter what device they use. This website is smart enough to reconfigure its design to meet the users needs.
We are seeing our clients websites attract far more visits from mobile devices than 6 months ago. In some cases half of all traffic is coming from people on mobile devices. But if the website is not responsive the level of engagement with the website is low. People are not prepared to scroll around a large web page on a small screen.
When the time comes to redevelop your website you should give serious consideration to a responsive design that will meet your customers changing needs.
Desktop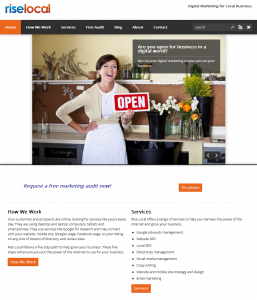 Mobile