Doctors recommend we get 8 hours of sleep a night. Congratulations to any business owner who can get that much. But at least you will be able to sleep a little easier knowing that your online presence is under control and bringing leads to your business.
Google has shut down the old Places pages and converted them to Google+ pages. We will discuss these changes in another post. One thing that is as important as ever is making it easy for Google's machines to know who you are and where you are. Google needs to see a consistent Name, Address and Phone number (NAP) across the internet to be confident that the information they are serving to their users is correct.
Do you want to rank well in Google local search results?  Then your first priority is to get a consistent NAP across the web.
Your Google+ page is what appears to people in the Map view when they search for local businesses. For example, here are the Google results for "Bondi plumber".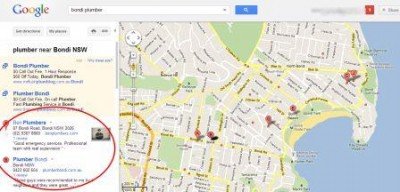 The are a wide range of factors that determines where your Google+ page ranks in local search results. Experts agree that maintaining an accurate and consistent NAP is one of the most crucial.
Your physical address is the single most important ranking factor. A plumber based in Blacktown is not going to rank in Google local results when people search for a "Bondi plumber".  The bloke out west will need to invest in a Google Adwords campaign to connect with a leads in Bondi.
The plumber based in Bondi has all the initial advantage when trying to connect with his local market. But to rank well locally Google likes to see that your business is listed elsewhere on the web with the same Name, Address and Phone. Ideally it should be exactly the same.  So it is important to settle on:
a business name (is it Sam's Plumbing or Shelfco Pty Limited?);
an address (is it 22 Smith St or 1/22 Smith Street?)
and a phone number (is it a mobile, landline or 1300 number?)
Once NAP is decided we need to promote these details consistently across the web.
Start with your website. Your NAP should appear on every page in text format.  Consider using the page footer. It will also appear on your Contact page. It is a good idea to include location information in your HTML tags. For example a page title may read "Sam's Plumbing, Plumber in Bondi, Eastern Suburbs Sydney".
Second, audit the major online directories that Google may consult to confirm your details. These are called "citations" and work to promote your business in Google local results. At a minimum ensure accurate NAP in:
Yellow Pages
True Local
Hot Frog
Start Local
Yelp
Local Business Guide
Duplicate listings on directory sites can be confusing to Google. If you have out of date listings with inaccurate name, address or phone number ensure they are deleted from the directory.
Third, ensure you use the same NAP when promoting your business elsewhere online. For example, if sponsoring the local sports team make sure they list your NAP correctly. It all helps.
The first step in connecting with leads and customers online is to own your online presence. Start with Google+ and then branch out to ensure your NAP is recorded accurately across the web.
We can help get you started with a free directories audit. We will check 8 key directories for your Name, Address and Phone details and provide a report on their accuracy.