We focus on results for our clients – leads, jobs, revenue and profit.
The best way to decide if we are a good fit for your business is to check out the results we have achieved for other businesses like yours.
The Case Study below describes the results Rise Local has achieved with Curran Plumbing and Fluid Plumbing Services.
Curran Plumbing Doubled Website Leads in 12 Months
Successful companies that have been established for many years understand the concept of embracing new ways of doing things.
Curran Plumbing, the family-owned, award-winning plumbing business, was committed to re-energising the company's online profile, yet had become frustrated by their experience with digital marketers. Curran Plumbing's management were disappointed by digital marketing services that showed a lack of transparency, poor communication and, most importantly, lacklustre results. They approached Rise Local, hoping that genuine digital marketing expertise would transform the outcome.
Rise Local's 12-month digital marketing campaign and professional approach restored Curran Plumbing's faith in digital marketing opportunities. Working with Rise Local also allowed Curran Plumbing to achieve fantastic measurable results that have increased revenue and capacity, supporting strong company growth.
Some outcomes of the 12-month digital marketing campaign include: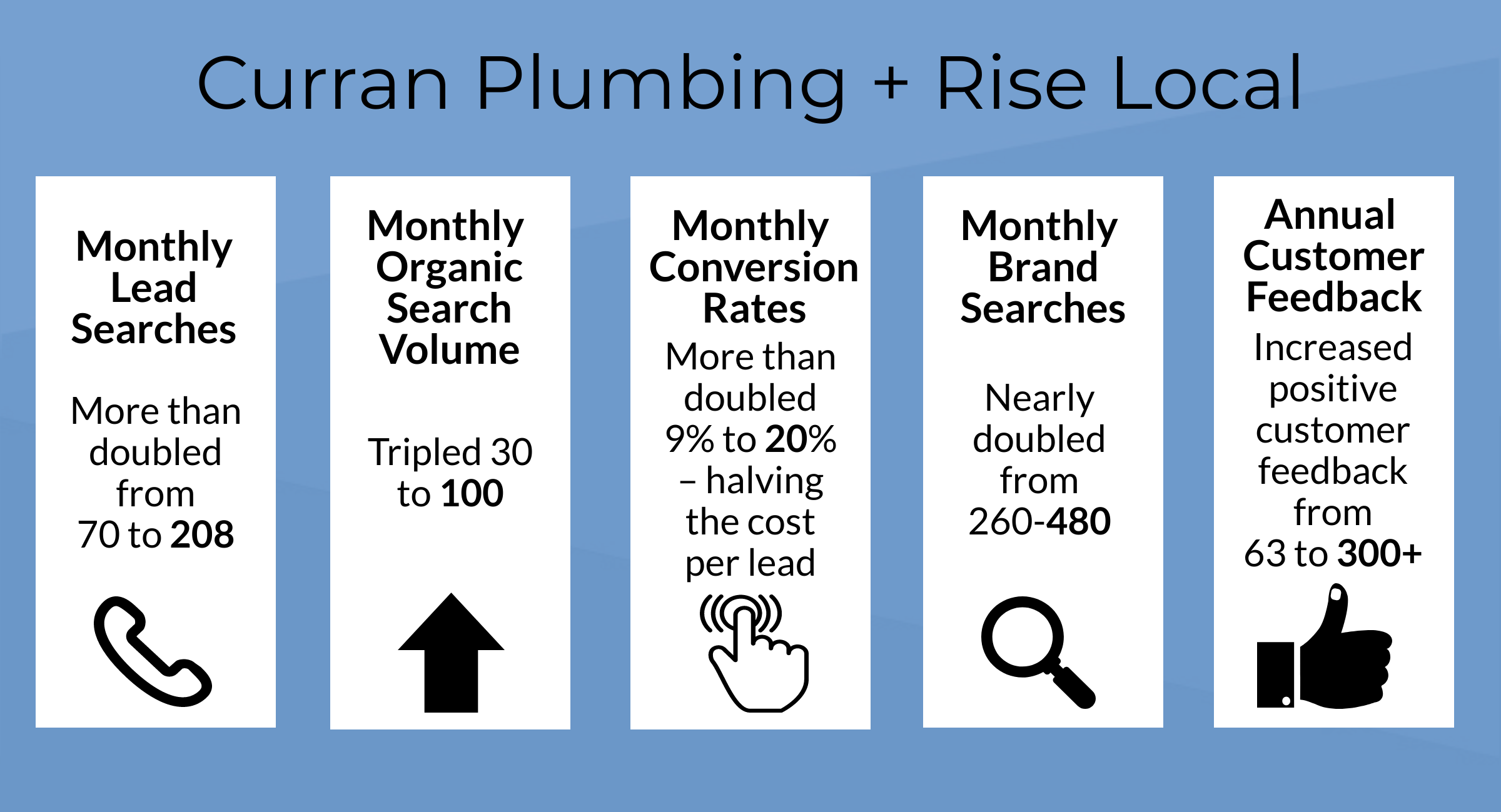 ⇒ Doubled lead volume
⇒ Tripled organic search volume
⇒ More than doubled conversion rate – halving the cost per lead
⇒ Doubled brand searches
⇒ Increased positive customer feedback.
(Outcomes achieved between April 2019 and March 2020)
Rise Local provided expertise and transparency
Plumbing, like many trades, is a very competitive sector, meaning that the stakes are high for any form of advertising and promotion.
Rise Local's digital marketing methods, coupled with other offline marketing strategies, enabled Curran Plumbing to rise above the competition and achieve a significant improvement to the company's bottom line.
Sid Curran, Curran Plumbing's Service Manager, believes that Rise Local's approach differs from other digital marketing companies. He commented, "Rise Local was recommended to us. We had seen their results for another plumbing company and wanted to achieve the same. We found the transparency and level of information that they provided, from the moment of their initial presentation up until now, has been extremely high."

The Curran Plumbing management team were very familiar with a wide variety of marketing tools from newspaper ads, to television commercials and letterbox-drops. But, over the years, their digital marketing strategies had achieved mixed results. Sid Curran elaborates, "We knew that we had to be on Google, but our Google Ads budget kept increasing and we were not getting the results we needed."
What happened after engaging Rise Local
When Curran Plumbing approached Rise Local about their Google Ads, Rise Local's presentation about their Precision Marketing Method subsequently highlighted the many avenues available to them. After conducting a thorough review of the company's requirements and objectives, Rise Local recommended that Curran Plumbing grow their business using digital tools including Google Ads, Search Engine Optimisation and boosted online Reputation management.
Rise Local's strategies have achieved significant measurable results, including:
Increasing the capacity of vans on the road from 60% to 100%, ensuring that jobs flow smoothly and service technicians are always working at maximum capacity
Assisting Curran Plumbing to achieve revenue growth of 18% from 2019 to 2020.

Supporting value for money
Curran Plumbing's digital marketing campaign is not static, and it continues to be developed across different channels.
Starting with Google Ads, Rise Local reviewed Curran Plumbing's existing strategy and developed an ad campaign that has been regularly adjusted to meet changing objectives and market conditions.
A key goal was to obtain the best value for money and Rise Local's strategies have certainly delivered, with the ad conversion rate jumping from 9% to 20% – halving Curran Plumbing's cost per lead. This meant that for each customer they locked in their advertising outlay was below half of what they spent before engaging Rise Local.

Rate of customers contacting Curran Plumbing via their website after searching online has doubled
A key objective was to improve the rate of potential customers contacting Curran Plumbing via phone or the contact form on the website from a Google Search. Rise Local put in place tools for Curran Plumbing to measure the success of their digital advertising and so they could measure their return on investment and compare results to other marketing methods.
Rise Local's strategies over the past 12-month have doubled the volume of leads for Curran Plumbing.

Rate of customers contacting Curran Plumbing after emergency plumber searches has tripled
Curran Plumbing has found that a large percentage of people who contact them, do so because they have some kind of emergency, for example, a blocked drain.
Aware that if you are not near the top of the first page on Google then you won't be contacted, they took on board Rise Local's advice.
Rise Local's strategies for raising their Google ratings have tripled the number of people contacting Curran Plumbing for work over the past 12 months.
Digital marketing is effectively linking in TV, letterbox drops and people looking at Curran Plumbing online had doubled
After 30 years, Curran Plumbing is a well-known and trusted company in the Illawarra area. Rise Local's digital marketing strategies have helped link their brand with other forms of advertising, ensuring that when people do search for them online, they appear as the 'plumber of choice'.
People have engaged with the brand more because of its messages are consistent and related to their needs.
Since engaging Rise Local the number of people searching for them by name via online searches almost doubled.
The number of positive customer testimonials has grown from 63 to 300+
Superior customer service is one of the key reasons that Curran Plumbing continues to grow and succeed.
Rise Local set up systems and processes that simplified the referral process, harnessing positive customer sentiment.

Impressive returns in a changing digital environment
By working in partnership with Curran Plumbing, Rise Local has achieved significant results that have boosted the plumbing company's growth and success.
Rise Local's sound experience working with trade focused companies, backed by their innovative working methods that keep in step with the changing digital environment, has definitely shown results, providing a great return on investment for Curran Plumbing.
To find out how Rise Local can assist your business with proven digital marketing strategies, get in touch with us today for a free consultation.
Book a Call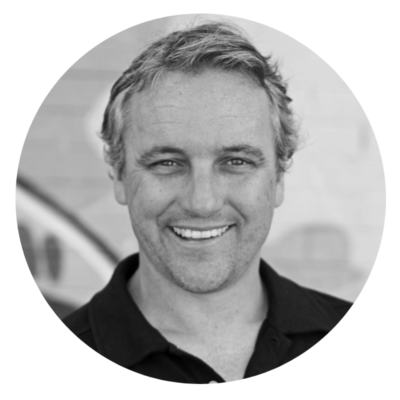 My name is Darren Urquhart and I have been in the digital marketing game for 15 years. I would love the opportunity to speak with you by phone and learn more about your goals and where you are stuck.
---
Fluid Plumbing Services – A partnership achieving outstanding growth
An effective digital marketing strategy is an absolute necessity for home services businesses like plumbers and electricians. If you don't appear on the first page of Google and other digital channels as a reputable local company, then it's highly likely that you're missing out on a lot of business.
Over the past two-and-a-half years Rise Local has worked with David Mikkelsen from Fluid Plumbing Services on a hugely successful digital marketing strategy that has resulted in: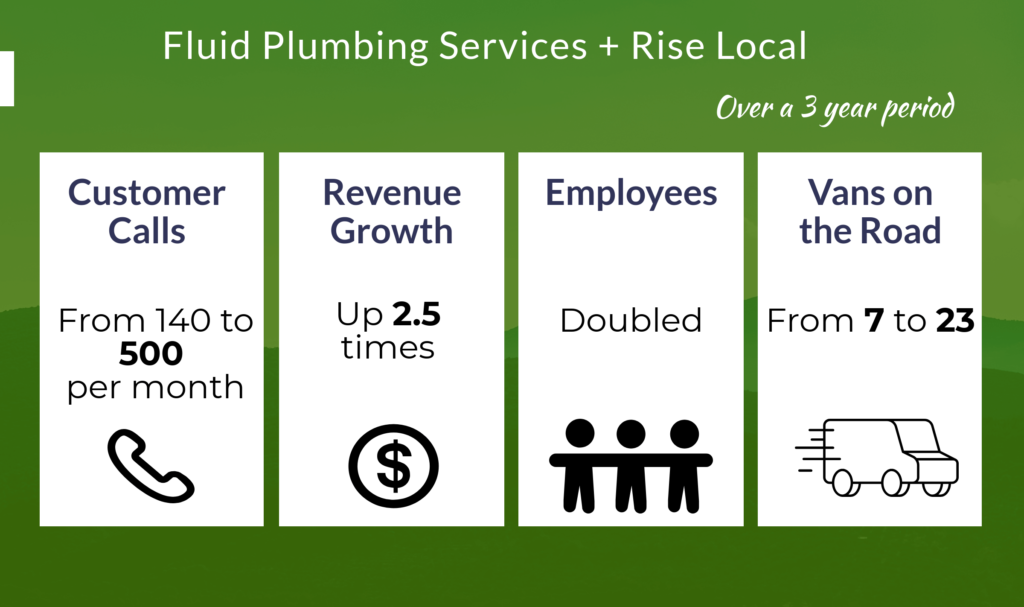 Customer enquiries increasing from 140 to 500 a month, revenue up 2.5 times, the doubling of employee numbers, and vans on the road increasing from 7 to 23.
So, how did Rise Local's proven digital marketing strategies help this outstanding plumbing company achieve exceptional results? Our case study highlights some key strategies and outcomes, along with David's insights into his effective partnership with our company.
Fluid Plumbing Services
Fluid Plumbing Services had been established on the Central Coast for 20 years when Director David Mikkelsen saw an opportunity to redirect the business from property maintenance to focusing on servicing residential customers. He also wanted to grow the business and expand into new areas like Newcastle and the Hunter Valley.
David acknowledged that an active expansion strategy would require a new marketing focus with digital taking the lead and supporting traditional marketing tactics like letterbox drops, car signage, sponsorship and radio ads.
The strategy also depended on building trust online in Fluid Plumbing's expertise and approach to customer service, with David commenting, "It was important that Fluid Plumbing's digital presence presented the company as a professional and reliable organisation."
Rise Local's brief two-and-a-half years ago was to develop the right digital strategies to help David meet his targets. Using their proven Precision Marketing Method, Rise Local's Darren Urquhart worked with David on strategies that have not only achieved outstanding financial results, they have also become integrated into operational and employee development activities.

Defining and segmenting customers
One element of the strategy involved segmenting Fluid Plumbing's customers into groups so that targeted marketing and sales messages would appear in front of the right people at the right time – converting prospects into customers and saving the company money.
In Fluid Plumbing's case, prospects and customers were broken up as:
Power Customers who search for Fluid Plumbing by name because they were loyal customers or because they were already aware of the company's strong reputation.
Active Customers who had a plumbing emergency, like a blocked drain, and searched online for a local plumber using Google.
This is where Rise Local's paid and unpaid digital strategies were important because 90% of people don't search past the first page of Google.
Converting these customers also included ensuring that Fluid Plumbing had strong, '5 star' online customer reviews across all their digital channels, including 3rd party sites and social media.
Future Prospects who may need the services of Fluid Plumbing at a later time. The company's strong digital presence works in conjunction with other marketing methods like car signage, hard copy marketing and community involvement to ensure that Fluid Plumbing remains top of mind for future customers.
Rise Local also employed strategies to ensure that ads weren't shown to people who are never going to use Fluid Plumbing's services, ensuring that digital spend was not wasted.
Defining and marketing to the right market segments not only increased the success of Fluid Plumbing's digital spend, it also encouraged customer engagement, loyalty and brand reputation.
In fact, David believes that "marketing spend has remained at the same percentage of revenue over the past three years", indicating the significant value of the right digital strategies to the company.

Some key elements of the digital strategy
David believes that digital advertising and marketing is vital to the company's success, supporting and grounding traditional marketing methods.
When broken down, several elements combine to achieve Fluid Plumbing's strong and effective digital footprint:
Google Ads
Keyword research is important in determining what words customers are typing into Google when they are looking for a plumber in the region that Fluid Plumbing targets. Google Ads now account for 40% of website enquiries for emergency plumbing services like blocked drains.
Customer Testimonials, building trust and employee growth
Rise Local has helped David and his team to obtain customer reviews that are crucial to building trust. David believes that "Google reviews are a really effective marketing tool when people are searching for an emergency plumber they can trust."
To help systemise the process, Rise Local set up an automated procedure for getting Fluid Plumbing customers to leave reviews after completed jobs, feeding those reviews to other digital assets like the website, social media, Google reviews and Facebook.
Seeing how effectively online reviews worked in the company's favour, David further developed systems and introduced incentives to encourage the plumbing staff to "actively engage with customers and to ask for feedback" and to educate customers that their views are really valued, commenting "We've found people are happy to leave Google reviews – if they know how."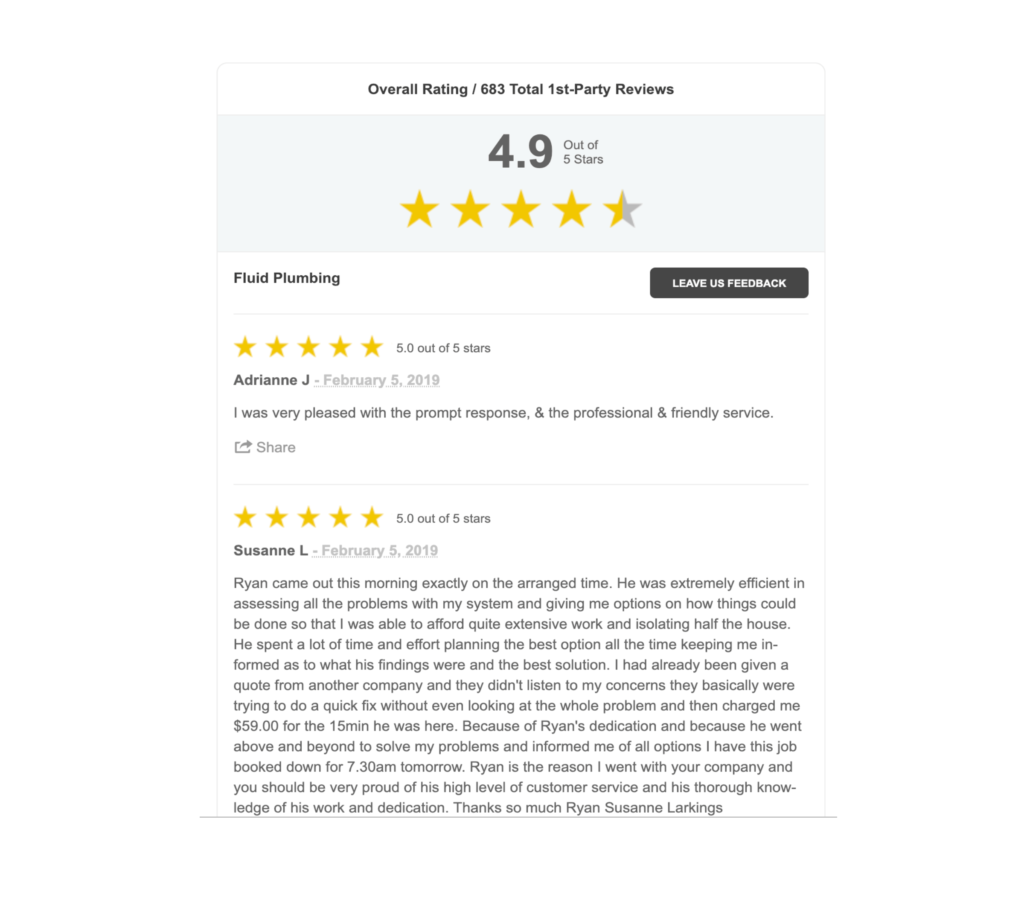 Well written content
Optimising Fluid Plumbing's website also involved making sure that web pages and blog posts were well written and related to what people were searching for when they needed a plumber or when they needed information about plumbing.
Fluid Plumbing's blog post "7 Tips for Clearing a Blocked Drain" now appears on the highly competitive 1st page of Google Australia-wide, ranking above listings for other plumbing companies providing this service.
So, if an Active Customer is looking online for someone to clear a blocked drain in the area that Fluid Plumbing services, not only will Fluid's ad appear at the top of the first page of Google, but their blog content, coupled with their strong star rating will appear there as well.

Tracking and reporting on results
The beauty of the digital marketing measurement tools used by Rise Local is that clients like Fluid Plumbing can gauge the effectiveness of the strategies in real time. David can now track the numbers and understand what is going on with his digital marketing, wherever he is.
Rise Local also supplies regular and easy to understand reports that highlight the effectiveness of the Precision Marketing Method. As any business owner knows, tracking and reporting on spend is a key element of business management and in turn success.
Call tracking is also used by Fluid Plumbing to ensure they know where their calls are coming from online, again measuring the effectiveness of the particular ad.

The Impact of Rise Local's Involvement
The strategies employed by Rise Local have been integrated into David's business operations with staff growth, development and KPIs tied to customer service, reviews and results. David believes that "Over the three-year period the number of staff employed by Fluid Plumbing has doubled and their personal confidence has grown exponentially."
Where to from here
The strategies that assisted Fluid Plumbing market to new customer segments and achieve significant business growth will continue to be developed, measured and modified to market the company's services in the Hunter Valley and Newcastle regions.
To find out how Rise Local can assist your business with proven digital marketing strategies, get in touch with us today for an obligation free consultation.