The leader of the pack gets more calls, more leads and books more jobs than their competitors.
They get these jobs for free.
Because these jobs are free to acquire, the profit from each job is higher.
In this article you will learn what the Local Pack is and how to be the leader.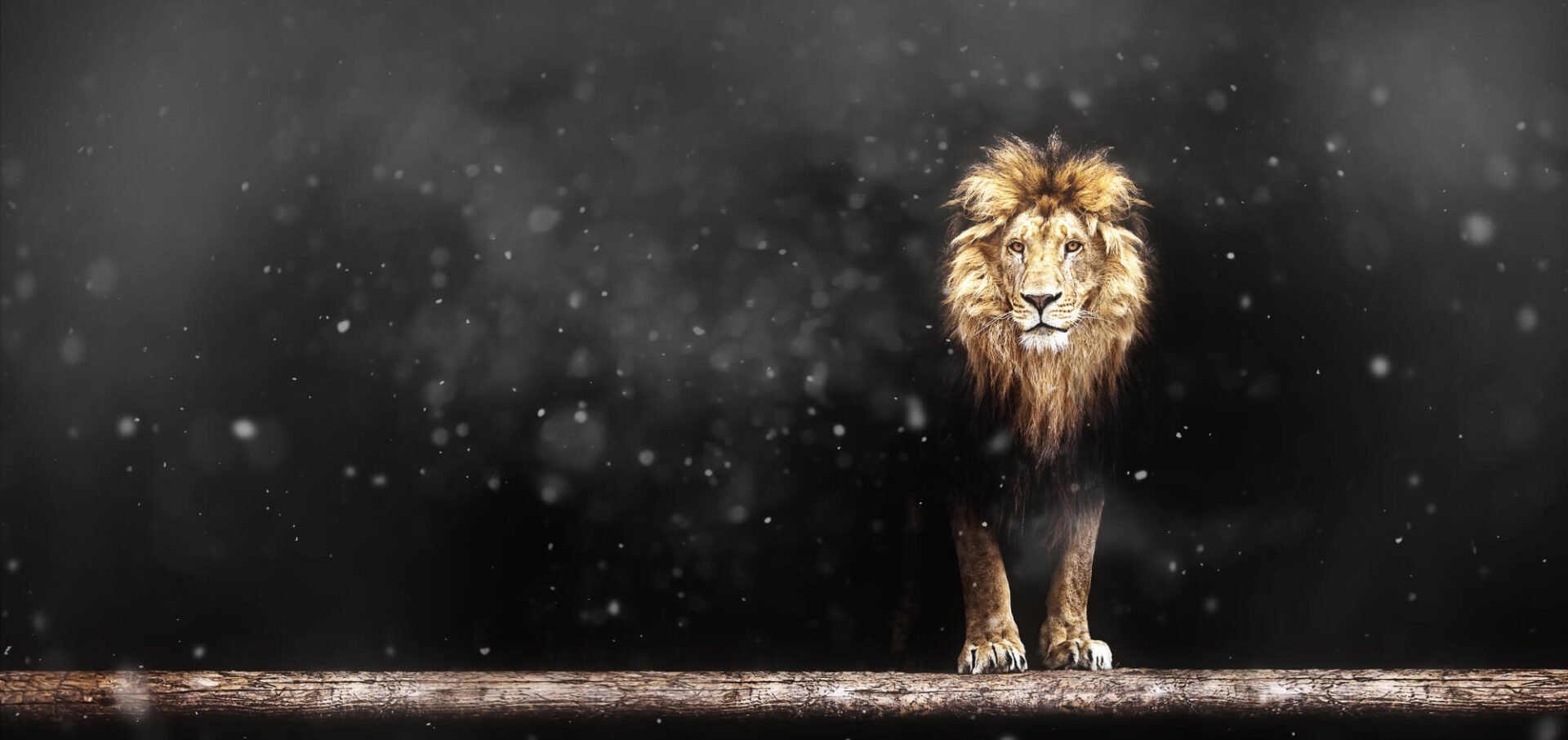 Leading the (Local) Pack
The Local Pack appears in the Google search results when someone searches for a local service. For example, "plumber sydney", "electrician eastern suburbs", "gas fitter St Kilda".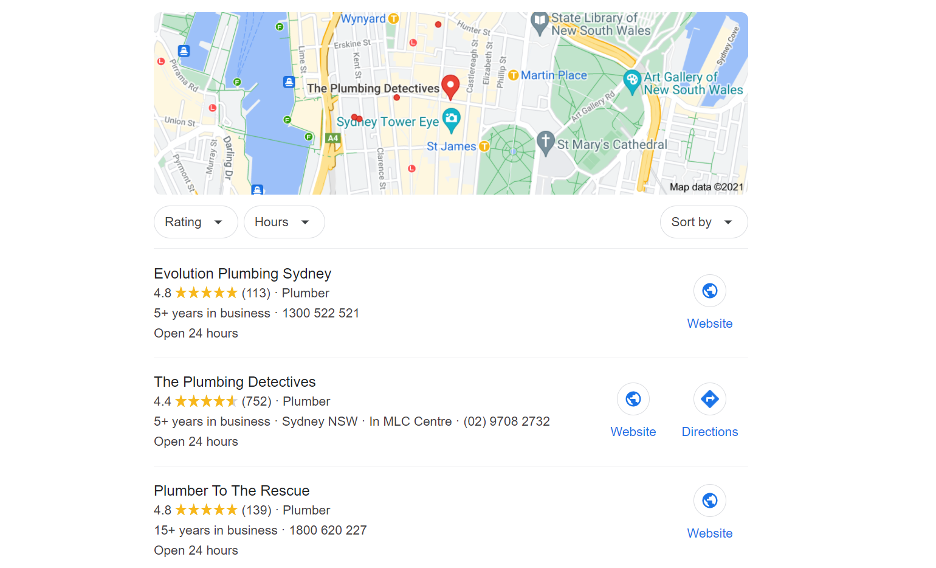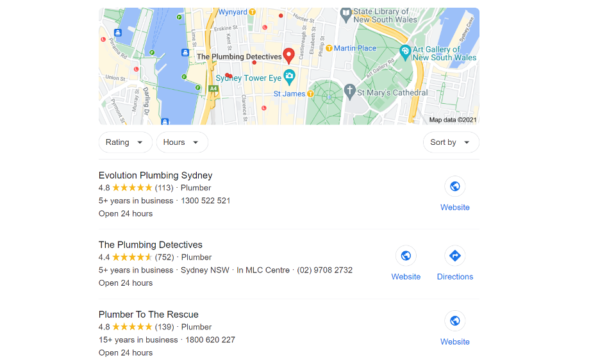 You cannot pay Google to appear in the Local Pack.
Ranking in the Local Pack is the work of SEO – search engine optimisation.
This kind of SEO is called "Local SEO".
Most of your competitors are completely overlooking the Local Pack. But that is a mistake.
We have a plumbing and electrical client who receives over 300 leads per month from their Local Pack listings.
That is 300 actual phone calls, not clicks.
That's right, 10 calls every day of every month. For free.
Here's how it works.
Someone searches for your service on Google. Let's use a plumber servicing Wollongong as an example.
At the top of the page they will see 4 ads.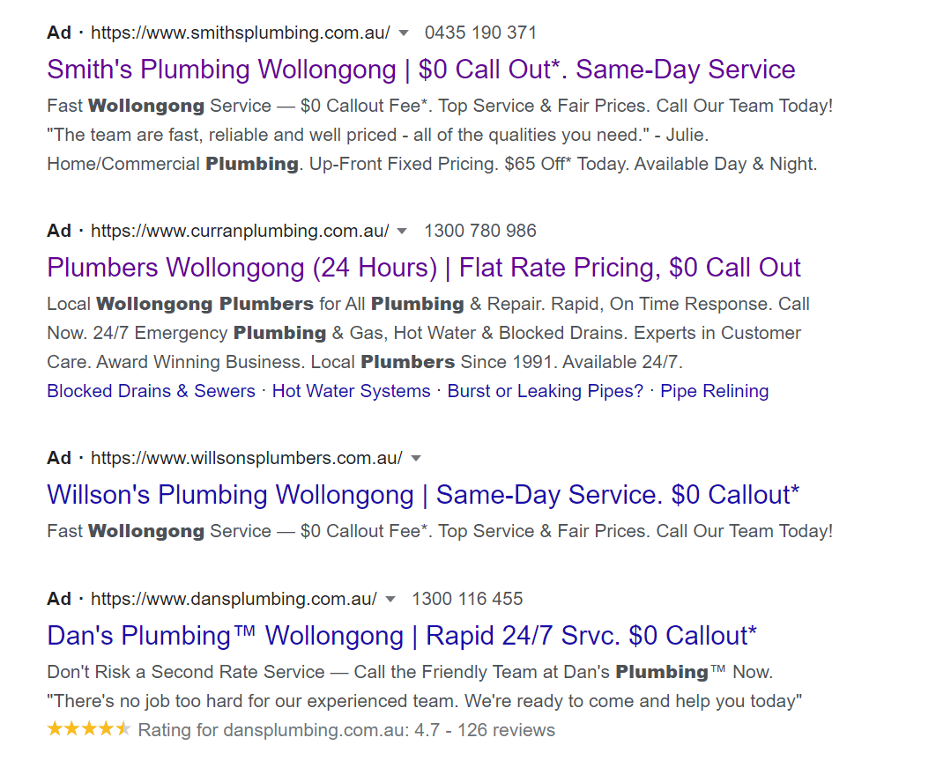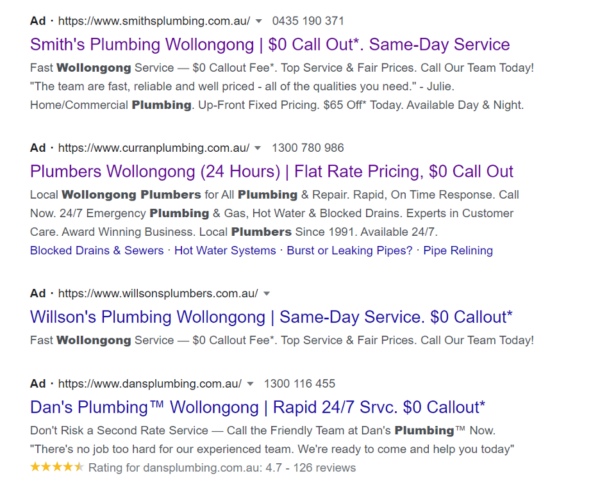 You need to "pay to play" in this space.
Anyone can appear at the top of the page if they are prepared to pay Google enough.
The problem for home owners is that less reputable businesses can appear at the top of the page just by paying Google. There are plenty of horror stories of people being ripped off by unethical trades. Very often, these horror stories begin with a click on a Google ad.
So home owners are becoming more savvy and scrolling past the ads.
Immediately below the ads is the Local Pack.
You cannot pay Google to appear in the Local Pack. You need to earn it.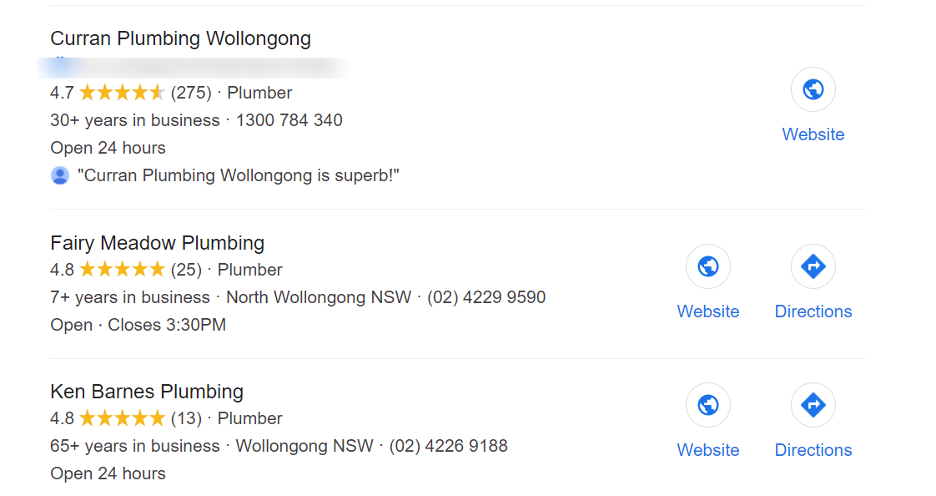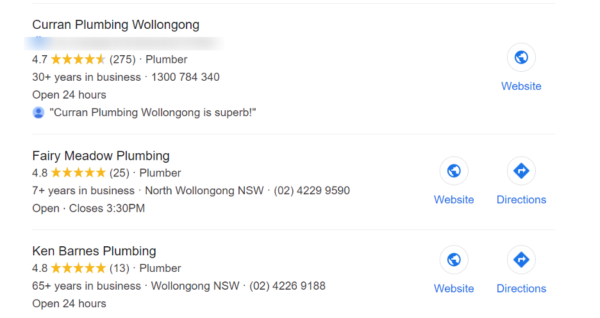 Being the leader of the Local Pack is very profitable.
In this example, Curran Plumbing will receive calls from prospects directly from the Google search results. These prospects do not even visit the Curran website. They call directly from the Local Pack.
Other prospects will click the "website" link and visit the Curran site. Then they will call from the website.
The best part?
All of these leads are free. Curran Plumbing does not pay Google a single cent for these leads.
When your marketing generates more free leads for your business, your marketing cost per job decreases. That means it costs less to acquire a new customer. When your cost per job falls, your profit rises.
How many jobs are you getting from the Local Pack?
Measuring Your Local Pack Performance
What do you want from the Local Pack?
You want calls. Leads. Jobs. New customers.
So the most important metric is enquiries. How many calls does the Local Pack generate for you.
Google does provide some insight but it has its problems.
Start by logging in to your Google My Business account.
Access your listing and click on "Insights". Scroll down to the "Customer Actions" section.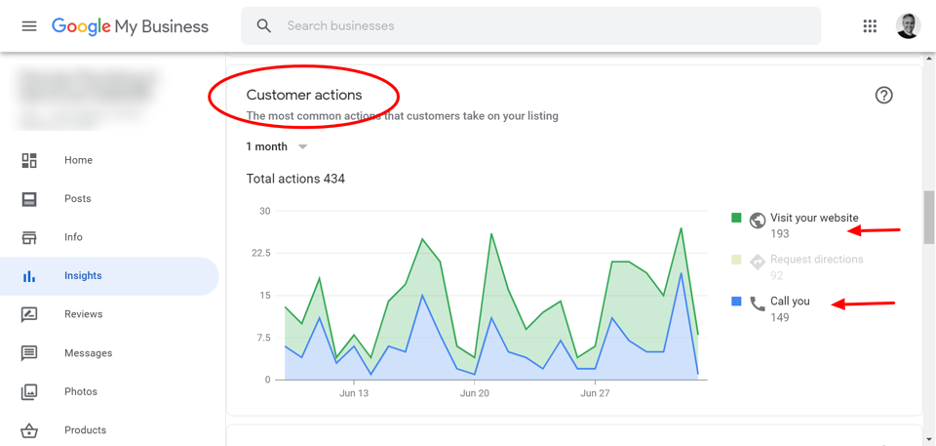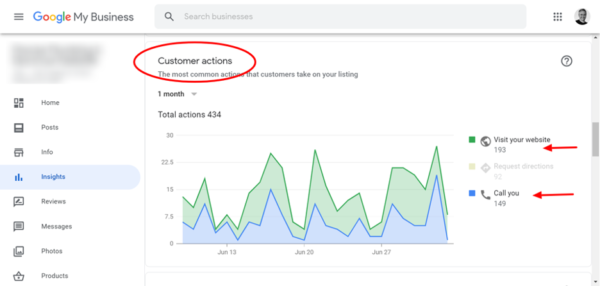 Google reports how many people clicked on the "website" link and visited your site. In this case it was 193 people. 67 of them went on to make contact from the website.
The report also shows 149 phone calls. Google can count only people who "clicked to call" from the Local Pack listing. They cannot count people who physically dialled the number.
In this case the actual number was 289 calls directly from the Local Pack listing.
To get an accurate count you will need to use a dedicated tracking phone number in your Google My Business listing. So whenever someone calls that phone number you know it could come from only one source – the Local Pack.
Measuring Your Local Pack Ranking
How do you know if you're the leader of the pack?
You can start by doing some Google searches yourself.
Go to Google and run some searches that your customers would use. Include the name of a service (plumber, electrician, gas fitter etc) and the name of a town or suburb you service.
Do you see yourself in the Local Pack?
Now for an important point.
The businesses that are shown in the Local Pack are highly dependent on the location of the searcher. That means the leader of the Local Pack changes depending on exactly where you search from. Sometimes the results change from street to street.
So to properly measure your Local Pack rankings we use specific tools.
In this example we are looking at the Local Pack rankings for an electrical company servicing Sydney's North Shore.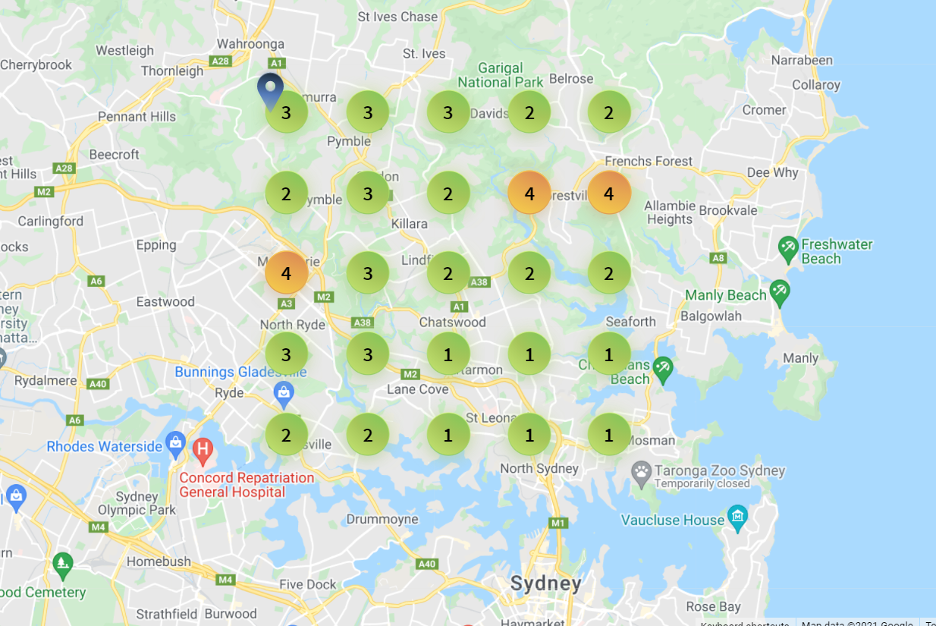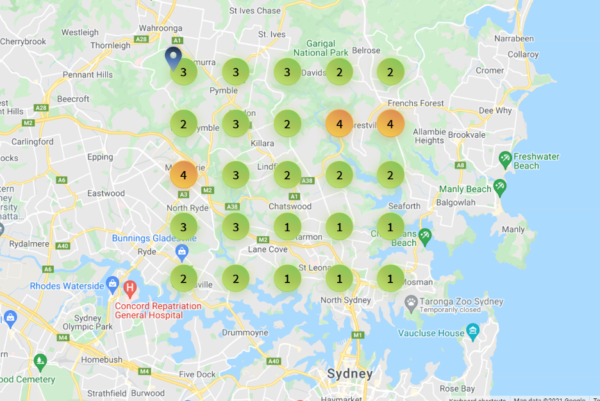 You can see in some suburbs they rank #1. They are the leader of the Local Pack.
But just down the road they are in positions two, three or four.
The goal is to become the leader of the pack in all these areas. The #1 position in the Local Pack gets more calls than the others. More calls equals more jobs. They are also free calls so your marketing cost per job is lower. That means your profits rise.
How to Rank in the Local Pack
There are plenty of articles out there explaining all the ranking factors for the Local Pack.
As a business owner you have better (and more important) things to do. This sort of work is best outsourced.
This article will not repeat all those ranking factors. Instead I will touch on the most important.
Primary Category – this is a field in your Google My Business listing. If you want to rank for the keyword "electrician" , your primary category should be "electrician". Simple but very important.
Proximity – your business needs to be located in or near the location you are targeting. If you are based in Geelong, you are not going to rank for "plumber Melbourne".
Reviews – having more customer reviews on your GMB listing helps you rank. Google will also look at the keywords in those reviews.
Links to Website – your GMB listing will link to your website. Google will look at your website and the other links pointing to your site to help determine where to rank you in the Local Pack. That means your website SEO work will help you to rank in the Local Pack.
Pro Tip – Getting Spammy Competitors Kicked Out
The Local Pack is full of pretenders.
Your competitors are creating spammy listings to try and trick Google into ranking them in the Local Pack.
Sometimes these tactics work. Google just isn't very good at policing their own product.
Here is what they do.
They create a listing with a fake business name. The name they choose is full of keywords. So they will make a business name like "Sydney North Shore Electricians".
Because Google's ranking algorithm isn't very smart, a fake listing like this can shoot straight to the top of the Local Pack when someone searches "electrician north shore".
They prospect clicks on the phone number in the listing which directs to a real business – your competitor.
There are a lot of businesses using this tactic. Only a very small percentage of them actually work. But every call they receive is a call you are not receiving.
So here is what you can do.
Google encourages "spam reporting". They want people to report listings in the Local Pack that are obviously spam.
We recently had 25 spam listings taken down on behalf of a client. This propelled them to become the leader of the Local Pack in their area. Their calls increased. They booked more jobs. Their profits went up.
Want to be the Leader of the (Local) Pack?
Are you ready for a stream of free leads from the Local Pack?
You start by measuring your current rankings.
Contact me and request a Local Pack report. I will send you a report just like this one: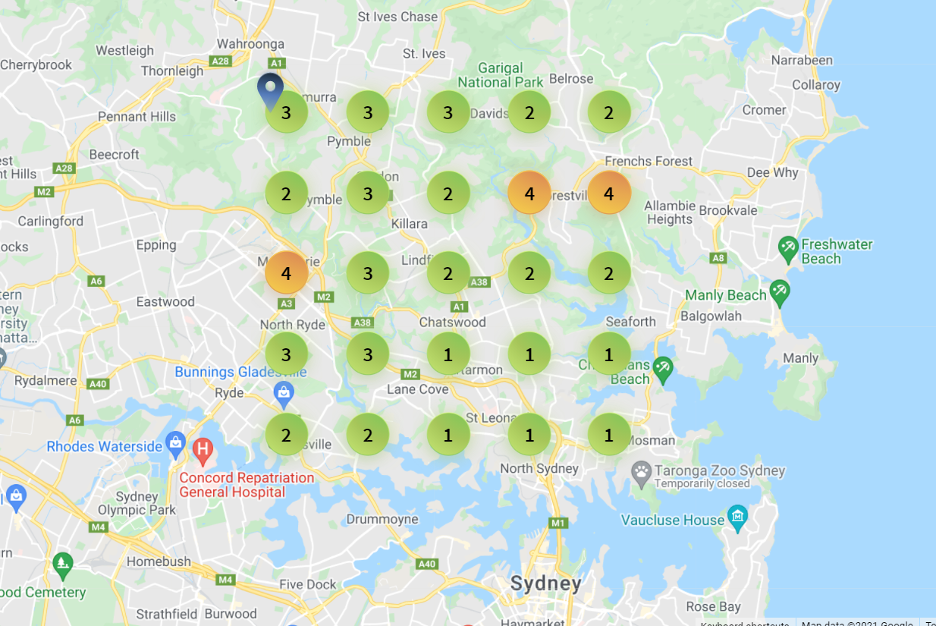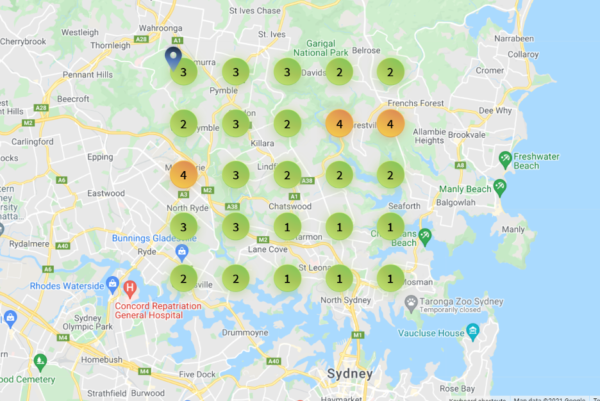 We will identify the areas where you can become the leader of the Local Pack fast.
The report is free. No strings attached.